WE ARE DEDICATED
to combining the talents and efforts of our members for the improvement of the roofing industry, the establishment of high performance standards, and to benefit the profit-making ability of our members.
Annual MARCA Scholarship Golf Outing
DOLLARS AWARDED IN 2022 SCHOLARSHIPS
MARCA provides its members with the opportunity to network with some of Maryland's finest roofing contractors and suppliers, make new friends and share ideas. And you, your family and coworkers can enjoy outstanding annual social events such as our Annual Golf Outing and Rocktoberfest Fishing Tournament. When you invest in MARCA membership, you are identifying your company as a leader in providing professional roofing products and services to your valued customers.
MARCA's success rests firmly in the hands of its volunteer leaders who, year after year, do whatever is necessary to provide a rewarding experience for all MARCA members. The officers and board members meet at least eight times each year, establishing policies and areas of focus that guide our organization. Interested in volunteering for MARCA? Get Involved
TRAINING EVENTS
MARCA provides vital education and training programs to its members' employees including First Aid and CPR, torch, crane, and OSHA training.
Social Events & Dinner Meetings
Network with the Mid Atlantic's finest roofing contractors and suppliers during our frequent social events and dinner meetings.
Scholarships
As a member of MARCA, you, your family, your employees and their immediate family members (spouse and children) are eligible to apply for our annual Scholarship Awards.
The Associated Roofing Contractors of Maryland (ARCOM) was formed in 1961 by a group of prominent Maryland roofing contractors dedicated to the growth and development of our industry. The Washington Area Roofing Contractors Association (WARCA) was established in 1971. In April 2007, ARCOM merged with the WARCA to form the Mid Atlantic Roofing Contractors Association. Today, MARCA represents more than 200 contractor and supplier members.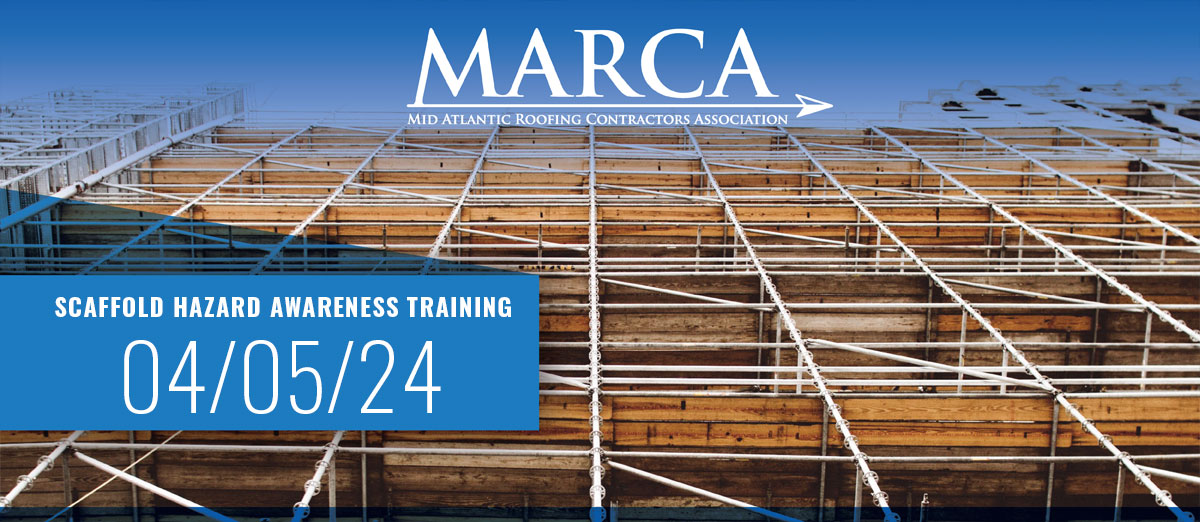 2024 Scaffold Hazard Awareness Training When: Friday, 4-5-24 Time: 7:30am-12pm Where: Scaffold Resource9513 Lanham Severn Road, Lanham, MD Training Provider: Scaffold Resource Event Sponsor: Scaffold Resource Cost: $10 (includes continental breakfast & boxed lunch)...
View Our Directory of MARCA Members